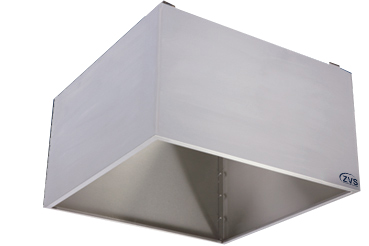 The ZVS-VHB-G Series is ZVS Premier Type II, Exhaust Only hood to be used over equipment not producing grease laden vapors. Type II hoods are used for condensation or heat removal applications.
Exhaust Flow Rates: Superior exhaust flow rates.
Construction: Single wall type hood fabricated of Type 304 stainless steel, #3 or #4 polish, on all exposed surfaces when used in condensate applications. Type 430 stainless steel, #3 or #4 polish available when used for heat applications. Pre­punched hanging angles on each end of hood. Additional set provided for hoods longer than 12′.
Condensate Applications: Integral 4­sided perimeter gutter and one drain standard for high­moisture exhaust.
Reduced Lead Times and Shipping Costs: Produced on a high volume assembly line at one of five manufacturing facilities to reduce lead times and shipping costs.
Optional REM Construction: Two options available when removable condensation baffles are required for heavy condensate applications. Designs available for one baffle or two baffle configuration to collect and drain condensation into gutter.
Optional Double Wall Construction: Double wall front used when switches are needed on the face of the hood and/or lights are desired. Mechanical baffle provides a built­in wiring chase for optimal positioning of electrical controls and outlets on the front face of the hood.
Optional Lights: Incandescent, LED and fluorescent lights are available.
Optional Make­Up Air: Make­up air can be supplied through optional front and/or side plenums (PSP Accessory).
Optional Enclosure Panels: Constructed of stainless steel. Sized to extend from hood top to ceiling, enclosing pipe and hanging parts.